23 July 2016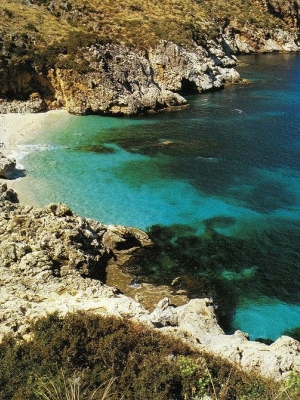 The Zingaro Reserve extends in an area of 1650 hectares, with a coast zone of about 7 Kilometers, formed of a rocky coast Mesozoic limestone with numerous creeks and characterized by overhanging cliffs that from a maximum height of 913 meters (Monte Speziale) go swiftly down to the sea.
The geo-pedology structure is represented by calcareous Quaternary formations and most of all by Mesozoic reliefs of calcareous dolomitic nature. The morphology of the landscape shows sharp and irregular shapes. The lands which constitute the reserve are the result of both the human activity and the evolution of nature; in fact up to a short time ago every area, even small, was cultivated for agricultural aims.
Noteworthy are the phenomena of Karstic formations with top tablelands and dolinas where the erosion permits the accumulation of red soil with many lituosoli and emerging rocks in slabs and out-crops. The Zingaro enchants for its rough beauty , for its intense colours in every seasons, for its white little coves set in a turquoise sea, the omnipresent palmets , the luxuriant Mediterranean bush, the strong wild olive trees and the magnificent carobs from where you can glimpse the harmonious shape of the rural houses.
cala capreria
 The Zingaro terrestrial reserve is yet tightly linked to the sea which is not only the geographic limit but also the constant setting of the landscape and the necessary complement of the naturalistic aspects.
The pebbly little coves, seen from the sea seem to have the shape of brighter niches sunken in the Dolomitic slopes which coming from the south part of Scopello and going to the north part get the name of Cala della Capreria (left picture), Cala del Varo (reachable from the sea), Cala della Disa or Zingaro, Cala Beretta, Cala Marinella, Cala Torre dell'Uzzo, whose calcareous substratum, exalts the transparency of the water like a tropical environment. And not last Tonnarella dell'Uzzo.
The underwater environment is a continuous following of colours and forms. It starts from the bank where the impact of the sea is tumultuous and it adorns itself of the Lithophyllum Tortuosum, a red alga very tangled and frayed.
With the sea-tide the alga Cystoseira stricta witnesses the degree of the water pureness. Under the first meter of water you can see the Cistoseire with a more delicate aspect mixed with other darker algae. Where the blue is uniform more frequent are the animals of floral aspect: anemones, sea roses, madrepores. Under these, flourishes the Astroides calycularis (octopus of madrepora) which lights the walls from orange to red as fire. Sponges with yellow, violet and red shades cover grottos and passages. In the very depth you can see gems of red coral.